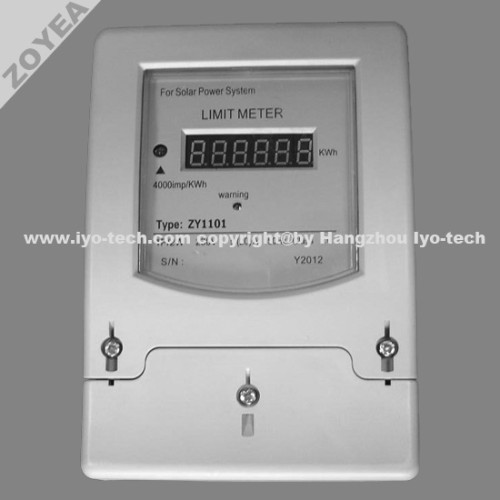 ZY1101 SOLAR POWER LIMITING ENERGY METER / LIMIT METER / ENERGY LIMITER
Item specifics
Display

6-digits LED
Protection

Overload Protection
Operation

Build-in MCU, Standalone
Control / Set

Programm in computer or Hand Held Unit
Reference Standard

IEC 62053-21
Description
SOLAR POWER LIMITING ENERGY METER / LIMIT METER / ENERGY LIMITER
NO. ZY1101
This is a single-phase two-wire electronic active Limiting Energy Meter / Limit Meter / Energy Limiter, front board, wall mounting, with build-in Energy Limiter inside.
The Simplest Limiting Energy Meter / Limit Meter / Energy Limiter is ideal applicant for energy limited or rationed everyday, like Solar Power System, Wind Power System and Hybrid System.
Operation Overview:
Each meter can be set limit of energy consumed per day. When the daily limit is reached, the meter will automatically cut off the power. On the next day, a new kWh allocation is provided. It runs in circle in this way.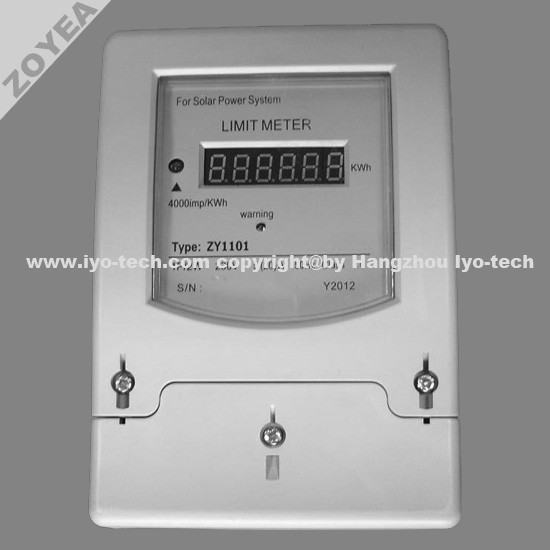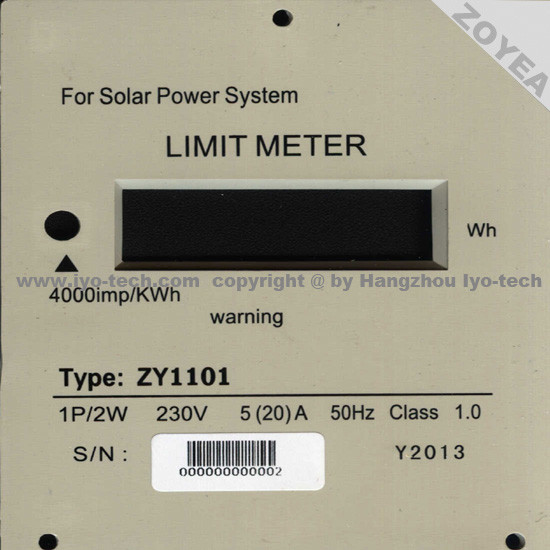 Features:
It can set the daily maximum load limit which limits energy consumed per day to prevent energy over-use.
The build-in MCU handles all metering and control function, standalone.
It can control/set by Hand Held Unit or Programm in computer.
It has 6-digits LED display.
It's equipped with a Real Time Clock and Load Relay, also has Warning LED Indicator to show the status of Load Relay.
And it's also equipped with Overload Current Protection to make meter safer.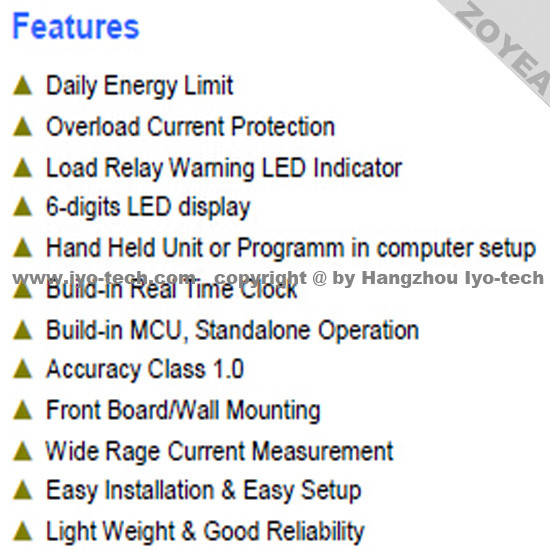 It's an ideal application for SOLAR POWER, WIND POWER or HYBRID POWER etc new energy power plants.
It's suitable for where the energy is limited or rationed.
It's useful for Tenants, Rugged or Remote Villages, Isolated Islands.
This meter dispense with system software, telecommunication line, framework. It's very easy to install and maintain.